Shogun
Samurai Hydro Grow
£14.95

2Ltr (1Ltr A & 1Ltr B)

£44.95

10Ltr (5Ltr A & 5Ltr B)

£79.95

20Ltr (10Ltr A & 10Ltr B)
Usage:
Root Feed – Add at a rate of 1-4ml/L of Part A and the same of part B to your nutrient reservoir or watering can (EC – 1.3-2.5). Dilution rates will be dependent upon your water hardness – please refer to the usage table tool below for more accurate dilution rates. Media- based systems require approximately 10-40 % DRAIN each day to keep the nutrients around the roots within acceptable concentrations. The drain conductivity should be between 0-15% higher than the input solution conductivity.
SHOGUN Samurai Hydro is a complete 2 part hydroponic nutrient to rival all others. Contains refined, precision formulated ingredients to produce amazing vegetative & flowering plant development. SHOGUN Samurai Hydro also contains the revolutionary SmartZen® ingredient, a unique collection of compounds that increases the distribution and assimilation of nutrients within your plant's vascular system. This cutting edge technology further imposes the superiority of Samurai over all other currently available nutrients.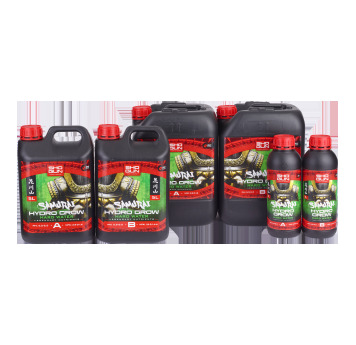 Key Features
Balanced high grade nutrition to support all stages of growth.
Fully Integrated into the full suite of SHOGUN additives for unrivalled performance.
Contains the revolutionary SmartZen® Yield Maximiser ingredient proven to increase yields by up to 8% above standard NPK formulas.
SmartZen® maximises nutrient uptake and transport for superior plant performance.
Available in Hard and Soft Water formulations. 2 Litre Set includes 1 Litre of part A and 1 Litre of Part B.
Samurai Hydro Grow Feed Chart
Medium: Hydro Coco Soil
Water: Soft water Hard water
Cuttings and seedlings
Vegetative growth
Flowering growth
Superior Product
Made in Britain
Supercharging Plant
Growth Innovation
Research Driven by
Dr. Callie Seaman
Independent 3rd
Party Lab Tested
Feed composition
Samurai Hydro is a high quality nutrient program designed to compliment and enhance the existing SHOGUN additive range. Made from the highest grade ingredients and incorporating the cutting edge SmartZen ingredient, Samurai Hydro is supplied in a 2 part A/B formulation with separate grow and bloom formulations.