Shogun
Samurai Terra Multipack
£39.95

Multipack
You asked for it, we listened and here we are with the new Terra Multipack.
Following the great success of our Coco Multipack we decided to offer the same benefit to our Samurai Terra growers or to anyone who uses soil as their growing media.
Shogun Terra Multipack is packed with our amazing Samurai Terra Grow and Terra Bloom fertiliser together with an amazing selection of additives: Start, Katana Roots, CalMag, PK Warrior 9/18, Sumo Active Boost and Dragon Force.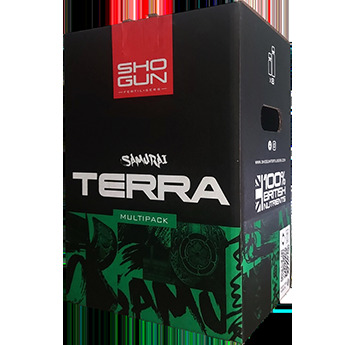 Superior Product
Made in Britain
Supercharging Plant
Growth Innovation
Research Driven by
Dr. Callie Seaman
Independent 3rd
Party Lab Tested